Husqvarna 122C brushcutter/strimmer (21.7cc) BRAND NEW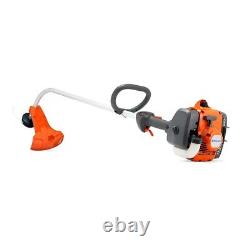 Husqvarna 122C Petrol Brushcutter/Strimmer (21.7cc). Due to its lightweight, the Husqvarna 122C petrol strimmer is ideal for lawn edging and borders.
When it comes to trimming your lawn, it's the perfect solution. The Husqvarna 122C is ideal for domestic gardeners thanks to its light weight, low noise and ergonomics. Weighing only 4.4Kg, the 122C grass strimmer is remarkably lightweight. With this weight, you can comfortably use it for long periods without getting fatigued.
In addition, it comes with a powerful 21.7cc engine, which boasts low noise levels. When it comes to performance, this 122C trimmer from Husqvarna incorporates a T25'Tap n Go' trimmer head. The primary purpose of this double line advance system is that with a single tap on the floor you can automatically extend the cutting line without stopping the strimmer. The 122C grass strimmer has a smart start engine and starter technology as well as a powerful fuel pump.
These features guarantee that the trimmer starts quickly with minimal fuss. The smart start feature is an exceptional feature that is currently used in many other types of garden and forestry machinery from Husqvarna. The great part of this feature is that it lowers the resistance in the starter cord by over 40%. The handle design has been optimised to make it comfortable to operate for long periods. The Heavy duty twin line cutting system with Tap'n Go for quick line feed makes easy work of most strimming scenarios.
Husqvarna grass trimmers are provided with an auto return stop switch. This way your grass strimmer will be ready for use again, whenever you are. Cutting equipment - 4.4 kg OEM Trimmer head - T25 (R) Cylinder displacement - 21.7 cm³ Power output - 0.6 kW Maximum power speed - 7800 rpm Fuel tank volume - 0.36 l Fuel consumption - 630 g/kWh Fuel consumption - 0.36 kg/h Idling speed - 2900 rpm Spark plug - NGK CMR6A Electrode gap - 0.5 mm Clutch engagement speed (±120) - 4200 rpm Maximum rpm output shaft - 10000 rpm Sound pressure level at operators ear - 88 dB(A) Sound power level, guaranteed (LWA) - 104 dB(A).