Stihl FS 55 Bike Handle Petrol Brushcutter Strimmer FREE DELIVERY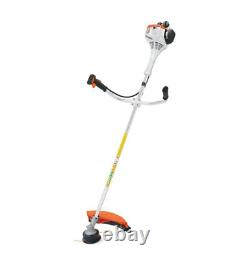 Low weight, compact brushcutter with fully adjustable bike handle for larger mowing tasks. Comes with a practical control handle with integral throttle trigger and slide control run/stop selector. The Stihl FS55 petrol brushcutter/strimmer has a 27.2cc two-stroke engine that will give you comfortable operation in larger areas of grass. Ergonomic multifunction control on bike handle, tool-free handle adjustment, 2-MIX engine, single strap harness, AutoCut C 26-2 mowing head. Finally, with a 420mm diameter for cutting, it will strim quite a large area, but still relatively compact to fit in corners and edges. Stihl FS 55 Brushcutter/Strimmer (27.2cc). Stihl AutoCut C 26-2 Strimmer/Brushcutter Head. This ensures reliable starting and trouble-free running. The ignition system is fully encapsulated and thus proof against damp and dirt.
A small fuel pump delivers fuel to the carburettor at the touch of a button. This reduces the number of starting strokes required following extended breaks in operations. When used in conjunction with a harness, the bike handle enables a smooth mowing action. The bike handle allows the machine to be easily guided, making it ideal for working on large areas and thus reducing fatigue. For use with loop handle machines.
Easy, comfortable thumb-operated control means the operator's hand never leaves the handle.